Positions:


02 Senior Vice Presidents - Operations
04 Vice Presidents - Operations
02 Assistant Vice Presidents - Operations
02 Officer Grade-I (Operations)
05 Officer Grade-II (Operations)

City: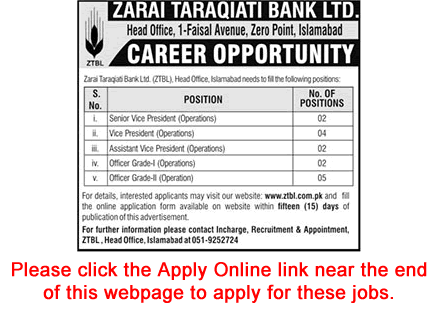 ZBTL jobs has been announced you can check more detail on official website of ZBTL
Your application must be reached in 15 days of the advertisement of the jobs.
ZBTL is government bank of Pakistan which is related with Zarai borrows and payments for the farmers and others people of Pakistan who take borrow on their land to give progress the agricalture in our country . Pakistan government has made this Zarai Bank for only related to agricultarual field .
Please never forget to share this post with your friend so everybody can avail this opportunity .
\
Keywords:
Recent / Fresh / Current / New / Latest
ZTBL Jobs May 2018 Apply Online Zarai Taraqiati Bank Limited
Advertisement in Daily The News Newspaper on Thursday 17-May-2018
Graduate / Postgraduate / Bachelor's / Master's Degree
B.Com. / BBA (Hons) / M.Com. / MBA / M.A. Economics
Senior / Vice Presidents - Operations
Assistant Vice President Jobs in ZTBL May 2018 Pakistan
www.ztbl.com.pk Apply Online
Maximum / Minimum - Age Limit / Relaxation
Eligibility Criteria , Academic / Educational - Requirements
Public Sector , Government of Pakistan
Zarai Taraqiati Bank Limited (ZTBL)
Banking Sector , Financial Sector
Officer Grade-I / II Jobs in ZTBL May 2018 Islamabad Pakistan
End / Closing Date , How to Apply , Application Deadline
Application Process / Procedure , Last Date to Apply
Ladies / Women / Female
Operations Manager , Operations Officer
Zarai Taraqiati Bank Limited Jobs May 2018 / Latest jobs for Khushab / latest jobs ZBTL
ZBTL jobs / Challen form for ZBTL